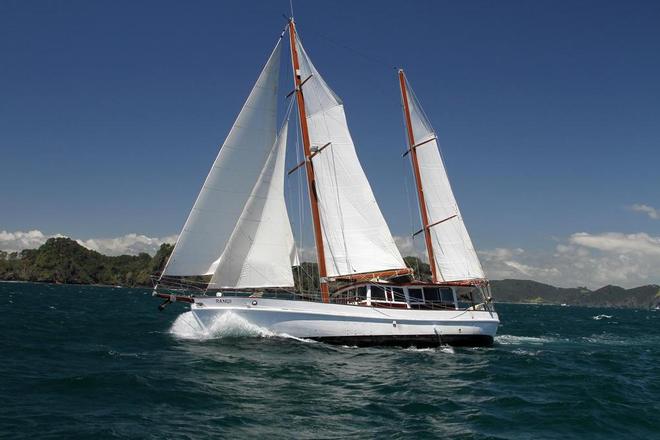 An expedition aboard the Ranui combines unparalleled service and comfort, with a unique opportunity to sail the seas aboard one of New Zealand's maritime treasures.
The Ranui's stately kauri and totara (native New Zealand timbers) exterior hint at the understated elegance within. Her spacious hand rubbed teak and kauri interior is superbly appointed.
The Saloon provides ample room for internal relaxation and is equipped to cater for sizable gatherings of either a personal or business nature. The dining table seats up to ten, while an extensive bar ensures that every taste is catered to. In addition the Saloon boosts a state of the art entertainment center, including television and video facilities and a Bose CD and MP3 player in stereo. Our extensive on board video and music library provides something for every taste and includes a selection of New Zealand greats. An extensive book library is also available. The Ranui also provides full computer with full Internet access and satellite phone capabilities.
Our on board chef will create gourmet meals with a distinctly New Zealand flavour, taking advantage of the exceptional local produce and abundant seafood and meals may be tailored to suit individual tastes. The Ranui also boosts an outstanding selection of award winning New Zealand wines which will be specially selected to compliment your menu. Meals can be served either in the Saloon, or outdoors on the magnificent upper deck.
The Ranui provides unparalleled luxury accommodation for up to 10 passengers. The Aramoana, Maui and Kupe suites are a statement in elegance and simplicity, and are fitted with a queen size beds Maui, Kupe and Paikea cabins have full ensuite bathroom facilities and provides ample wardrobe and drawer space. Another of the Ranui's unique features is the Paikea Cabin which offers the opportunity for families to experience sailing. Paikea our family cabin has private queen size bedroom with two large bunks able to accommodate 4 children.
The Ranui is able to provide its passengers with small sailing craft and a beautiful sleek rowing dingy for leisurely transport. The Ranui also provides guests the unique opportunity to document their own holiday with our on board video camera.
While aboard the Ranui guests will be offered an insight into New Zealand's ancient and varied indigenous culture. Ranui prides itself on an extensive library for those wishing to relax with a good story. Ranui offers its guest their choice of destination where ever possible and the Hauraki Gulf will not disappoint with its many islands and calm havens. Ranui Rig includes full sail and guests are encouraged to handle and skipper her to get a feel of the sailing experience. The Ranui affords guests an extraordinary and exclusive sailing experience that will be remembered and cherished for years to come.